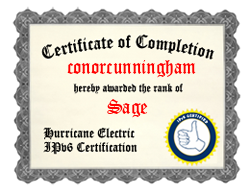 Last week in Oslo, April 24th and 25th, IPv6Forum Norway help and IPv6 Confernce at which I spoke. Hopefully the vidoes of presentations will be posted soon at the URL below.
http://ipv6forum.no/ipv6-konferansen/ipv6-konferansen-i-oslo-april-2012/
I gave a brief talk on IPv6 Certification, specifically IPv6Forum Certification. I can highly recommend looking a Hurricane Electric's certification program. I'm current stuck at the enthusiast stage as Google has not enabled IPv6 on their mail servers (Google host my E-Mail). I'm trying to work with DynDNS to get them to help me with PTR (reverse DNS) and Glue records for IPv6 (wish me luck).
After speaking with Martin Levy of Hurricane Electric fame, I will have a closer look at IPv6Forum's certification and HE's certification. So far, I think both are valueable but they are very different however  complement each other quite well. I can recommend both if you are interested.
Now, back to the presentations at the IPv6 Conference. There were some great presentations there and I think some of the most noteworthy are; (I've only noted presentations/slides relevant to an international audience)
Both of Erik Vyncke's talks on IPv6 security
Jason Fesler on IPv6 at Yahoo
Martin Levy on the IPv6 Global View
IPv6 Mobility by Jan Zorz (this is wild!)
So please, enjoy!