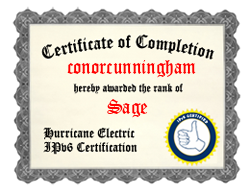 Right, well it seems I'm now a guru. Jolly good. The thing is however, I have always wanted to be a sage. We've set up IPv6 mail servers ( I couldn't get Google to change their policies so I changed my MX record and watched the bytes on the wire), my ISP Powertech (the best ISP in the world) gave my servers PTR records (via IRC on  Sunday, takk skal du ha, Truls!) and now I'm stuck at the Sage level. This is proving to be tricky as DynDNS.org isn't providing  a great deal of support even though I pay for the service, so we'll see how things pan out.
Being stuck at the sage level isn't such a bad thing. Perhaps DynDNS's name servers are a bit wonky, or perhaps I've made a mistake along the way. Either way, if I achieve the sage certification something will have been fixed, or I will have learn't something new, or both. Regardless of the outcome, something or someone will have benefitted.
The long and short of it though is that this HE Certification is about the nuts and bolts of IPv6. Teaching people, free of charge, how the Internet is bolted together and how it should be bolted together with IPv6. It also exposes many loose nuts, and in some cases, a complete lack of them altogether.
The more people who complete the certification, the more the internet will be able to handle what what is invetitably an increase of IPv6 traffic.